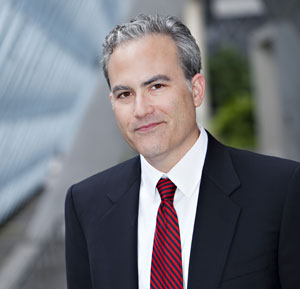 David Ruzumna attended college at Humboldt State University in northern California, and in 1997 graduated Cum Laude from Seattle University School of Law, where he served on the editorial board of the Seattle University Law Review.
In the 18 years that he has practiced law, David's clients as well as opposing counsel have consistently known him to be a tireless and exceptionally effective advocate. David has a deep sense of pride in what he does, and derives great personal and professional satisfaction seeing how his work can dramatically impact the lives of his clients.
David also has an abiding belief in access to justice, including the legal profession's obligation to give back to the community.  This belief has driven him to devote hundreds of hours of  pro bono services for groups such as CCYJ (where David is involved in the Lawyers Fostering Independence program, providing  pro bono services to current and former foster children), VAPWA (Volunteer Assistance for Persons with AIDS), several local non-profit animal shelters, and several local theater companies.
David handles a wide variety of civil cases, both jury and non-jury cases, in state and federal courts. He has tried cases involving issues that range from fraudulent transfers of business assets, to breach of real estate agreements, to construction disputes. He has experience in commercial and residential real estate transactions and litigation, including landlord-tenant matters, covenants, easements, HOA issues, construction, and land use litigation. David also advises individuals and businesses in drafting and enforcing contracts and in dealing with contract disputes, employment issues, and appeals.
In January 2013, David was sworn in as a Pro Tem Judge for King County District Court; he also serves as a Pro Tem Judge for municipalities in King and Snohomish Counties, including the cities of Kirkland, Kent and Bothell.
David spends his free time with his wife and two children, draws, and practices calligraphy.